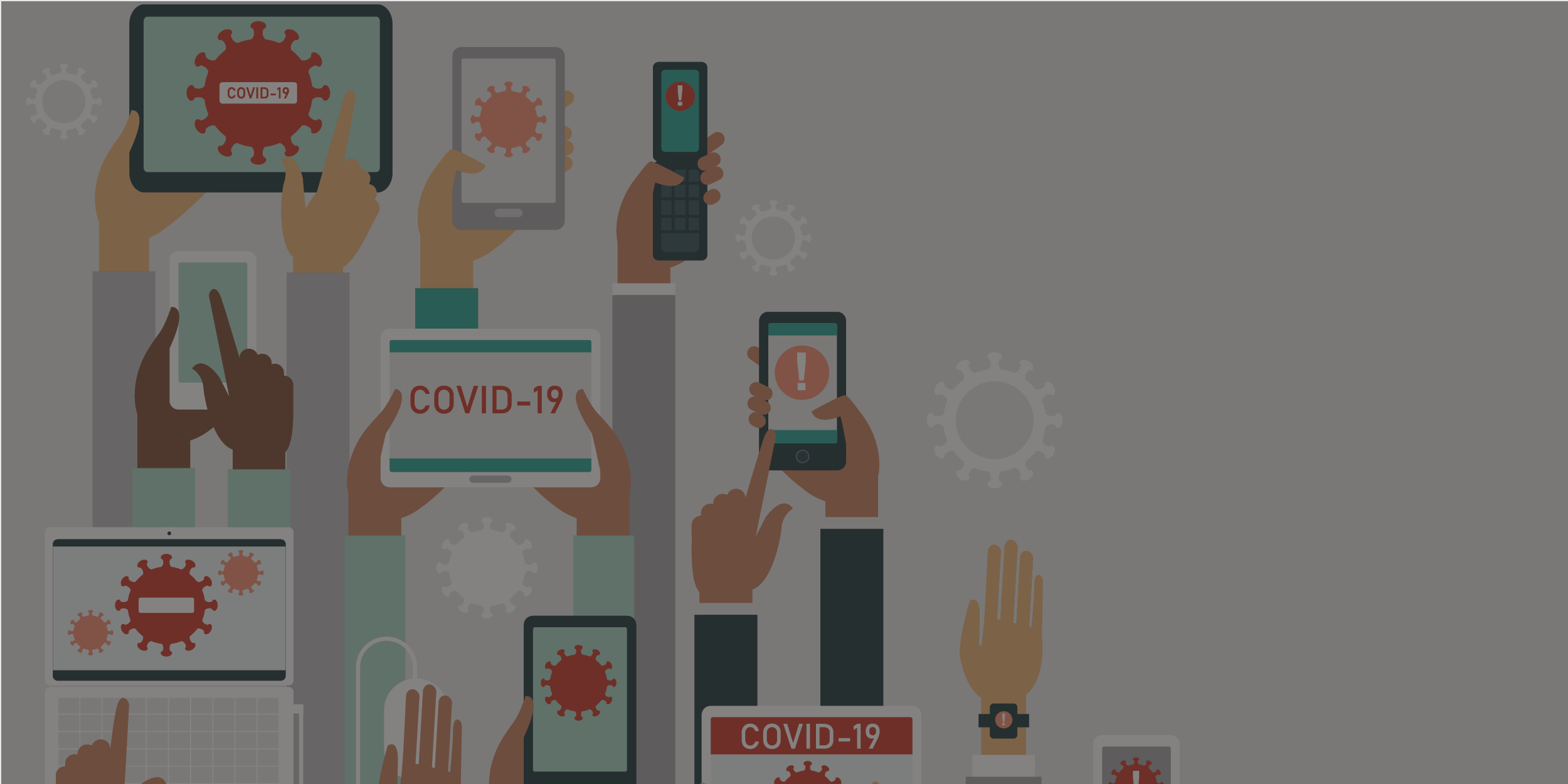 As we navigate through the COVID-19 crisis, most businesses are in uncharted territory. Many marketers I've spoken with are struggling to balance being sensitive, keeping their customers informed, and keeping their business running. It got me thinking: "How do we effectively communicate during a crisis?" Here's what I have found to be 3 important rules:
Communicate quickly
Every other business is trying to communicate with their customers during this time. At the beginning of March, as the situation with COVID-19 began escalating in the US, I was inundated by emails and text messages from every business I've ever given my information to. Every company's social post in my feed was about it as well. I took notice of the companies who were sharing and perhaps more importantly, the ones that weren't.
It is so important to communicate with your customers quickly about a crisis – yes, we acknowledge this is an issue, we're doing everything we can to mitigate the impact on you, and we'll keep you updated.
This does come with a caveat – if communicating quickly would compromise the accuracy or relevancy of the information you share, better to be a little late. If you rush to get the message out, you could unintentionally put out incorrect information. If you don't have all the answers or information quite yet, just communicate that you acknowledge your customers' concerns and you'll keep them updated.
One of the first companies that I saw communicating about COVID-19 was Thrive Market – a membership-based online market selling healthy foods at a discounted rate. I've been a member for several years and I've always been impressed by them, so I wasn't completely surprised to get an email and see social posts very early on. Not only did they communicate early on, but they continue to communicate quickly about updates within their company and updates to my orders. The speed and transparency only makes me want to shop with them more. Keep it up, Thrive Market!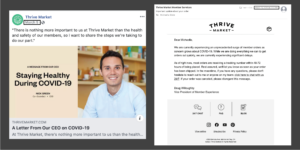 Communicate often 
Right now, life is changing at a wildly fast pace and new information is coming out daily, sometimes even hourly. Keep your customers in the loop as changes are made within your organization. Being a reliable source of information can build trust.
One great example of a company that is doing this so well is Going GreenHouse – a green commercial and residential cleaning service. They're regularly posting photos, videos, and helpful information on their Facebook page to inform their customers of any changes their making and to help their customers keep their home or office clean and sanitized during this time. Way to go, Going GreenHouse!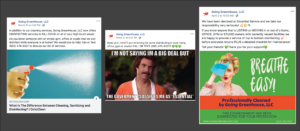 Communicate relevant information and stay in your lane 
Communicating relevant content and staying in your lane is always a good rule to follow, especially during a crisis. For example, if you work for a data center, send out information about the impact the crisis is having on your business and your customers and explain what you're doing to mitigate any negative effects. You don't need to share the CDC's recommendation or statistics – leave that to medical professionals. If you aren't staying in your lane, you could inadvertently put out inaccurate information.
A perfect example is data center company, EdgeConneX. They have an entire landing page dedicated to sharing relevant information about the effect COVID-19 is having on their data centers and employees and the many people they serve. CEO Randy Brouckman writes in a letter to their customers, "Our number one concern is your safety and the safety of our employees that serve and work with you. We have a robust business continuity plan in place that we actively have been implementing." They also have a COVID-19 team dedicated to answering any questions the "EdgeConneX community" may have during this time. Well done, EdgeConneX!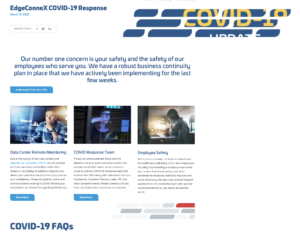 I hope that these tips help you as we all continue to navigate this time of unprecedented change. Communication is a powerful tool when done right. Stay safe and stay well!