Going over to the dark side. That's what it's called.
Selling out. Compromising your values for a paycheck. These are accusations people often hear when they decide to take a job with someone whose values appear to conflict with their own. Leaving a job that feels a lot like a vocation to move to one that is, perhaps, more focused on the business side of things. An academic researcher moves to a corporate job. A doctor accepts an offer to be in hospital administration. An industry union leader switches to a job in management.
Or a journalist leaves the newsroom to work in public relations or marketing.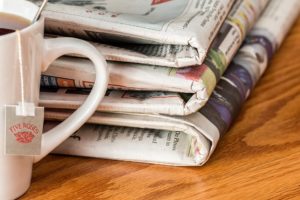 Your Plan A Can Be Their Plan B
In 2017, the U.S. Bureau of Labor Statistics reported that more than half of all newspaper jobs had disappeared in the 15 years between 2001 and 2016. As newsroom staffs across America become smaller and smaller, journalists are looking for their Plan B.
But let's be clear. Not only are journalist's values not in conflict with the values your content marketing firm should be espousing, their skills are very valuable.
Aligning Core Principles for Journalism & Content Marketing
Among journalism's core principles are:
Truth and accuracy
Getting the facts right should also be the cardinal principal in content marketing.
Fairness and impartiality
Stories have more than one side, even a story about your client. Adding context to your marketing content, showing your audience that you recognize how a client fits into the bigger picture, offering a level of impartiality, and being fair builds trust and confidence in your client.
Humanity and accountability
Journalists, content marketers, and doctors should do no harm. And journalists will probably feel most comfortable working for a business that is committed to some level of corporate responsibility.
12 Key Skills that Journalists Offer
Knowing what makes a good story and how to tell it
Synthesizing complex information quickly
Skilled at interviewing people at all levels of an organization
Able to research complex topics quickly to become 'instant experts'
Understanding the importance of getting the message absolutely correct
Adept at finding a newsy, unique, interesting angle
Ability to work quickly, used to multiple daily deadlines
Skilled at connecting with different audiences
Experienced with different storytelling tools – print, video, social media, etc.
Knowledge of SEO
Appreciate what attracts the attention of journalists
Ability to create relationships quickly and manage a growing pool of contacts
 Inside the Mind of a Journalist
Journalists have worked primarily with PR firms trying to pitch them stories and communications staff trying to frame the details from organizations on the reporter's beat.
Most journalists don't realize that opportunities exist with content marketing agencies. And most marketing shops are unaware of how to find journalists or to onboard them.
Content marketers and journalists have a lot to learn from each other. Take a look at the list above and think about what skills content marketers need that aren't on it. Can you teach those skills to a bright storyteller? Of course you can. And journalists have proven to be quick studies. Whether they've been in the newsroom during the transition from legacy news formats to a digital-first world or are recent journalism graduates, journalists are uniquely aware of the need to learn new tricks.
One area that needs special attention is helping journalists change from telling stories aimed at consumers or the general public. A former business journalist will have a heightened sensitivity about writing for business leaders. But a journalist who has focused more on the general public will understand that B2B content marketing requires a new point of view.
Nobody Works on the Dark Side
I spent nearly 25 years in magazine, newspaper, and online journalism. Nearly half of that was covering business beats, sharing honest stories about businesses, holding them accountable when need be. I've spent the past several years working in content marketing, creating white papers, byline articles for business leaders, website content, quizzes, social media posts, e-books, e-mails, etc. I have been guided by the same core beliefs in both my Plan A and Plan B.
Journalism, at its foundation, is an act of public service. Content marketing is not that. But it is about providing quality, valuable content. And, in my experience, businesses that thrive are solving problems, providing something very close to a public service.